July 24, 2023
Middletown Township Fire Department Touch-A-Truck Event
Mater Dei High School Parking Lot, Cherry Tree Farm Road 6 PM to 9 PM. Fire Trucks - Food Trucks - Games - Fire Safety Demonstrations. Come out and meet the township's Volunteer Firefighters.
December 18 2021
Operation Village Santa
Santa is coming to the Village again. The members of Old Village Fire Company are excited to announce that we will be escorting your favorite fat man around the Village this Christmas. Check back for an update on when you can expect Santa in your neighborhood. Like our Facebook page, follow us on Twitter and Instagram for more information.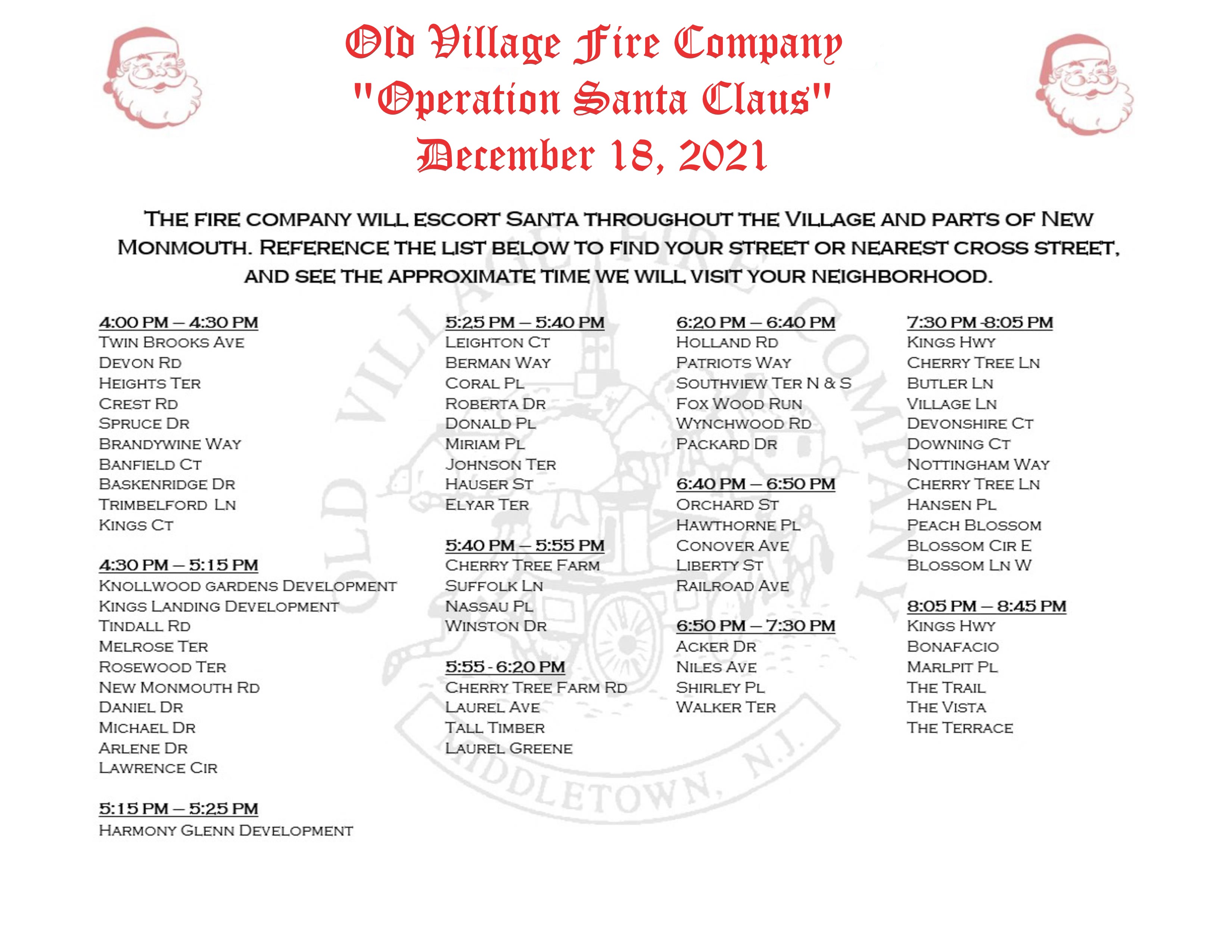 01 JAN 16
Busy January
January has been busy with calls for service. The new Line Officer's are putting their skills to task. Our members have also taken part in several training sessions in acquired structures with the rest of the department. Quality training that provides realistic experience.
2016 Firematic Officer's
Captain Robert Smith
1st Lieutenant Michael VanWagoner
Chief Engineer Jeffery Siegel
1st Asssistant William Hrehowsik
2016 Administrative Officer's
President Joseph Lomonaco
Vice President Richard Millward
Treasurer Patrick Mannix
Recording Secretary Jeffery Siegel
Corresponding Secretary Andrew VanWagoner
01 JAN 14
New Year - New Officers
We would like to congratulate all of the Officer's who have assumed new roles, maintained old ones or are entering the ranks for the first time. A volunteer fire company needs all of it's members in order to operate efficiently, but the Officer's steer the company. Good luck.
14 DEC 13
Santa is Coming to the Village
We'll be escorting Jolly OlD Saint Nick on Saturday December 21st. Listen for the sirens and follow us on Twitter as we tweet Santa's location along the way. @OVFCStation11
21 SEP 13
First Ever Poker Tournament
We are pleased to announce the date for our first ever Texas Hold Em tournament. The company will host the tournament on Wednesday November 13 at 8PM. Please support our company by playing your hand and a chance to win. Click here to view the flyer.
$100 Buy-In (2,000 Chips)
Doors Open at 7pm.
Pizza, Soda, and Water included.
Pre-register by calling Eric at (732)778-3545 or Nick at (732)796-8056
Pre-Register by November 1st and receive 500 bonus chips
Unlimited Re-Buys in the first round $100 (2000 chips)
Pre-Register and pay only $50 for your first re-buy
Mj's Pizza and refreshments served before the event
Seating is limited
Please reserve your seat in advance
Any questions please call Eric at (732)778-3545 or
Nick at (732)796-8056 or contact us at
Texasholdem@oldvillagefc.org
Winners to be paid out in Visa Gift Cards
Must be 18 or older to play
10 MAY 13
Station 11 Responds to Close Call at Tomaso Plaza
On Friday May 10 just before 4 PM, the Middletown Township Fire Department was dispatched to the Tomaso Plaza apartments located at 2 Oakdale Drive for an odor of burning. Initial reports came from the maintenance personnel on site. Upon arrival, fire department units investigated the cause of the odor. After an apartment to apartment search, a resident reported a possible source for the odor.

The resident turned over a burnt stove top pot holder. The plastic holder (pictured below) had begun to burn and charred as a result of falling onto the electric stove burner. No damage was sustained to the residence. Over 40 firefighters from Stations 11, 8, 7 & 3 responded. Department Chief John D'Altilio commanded the incident.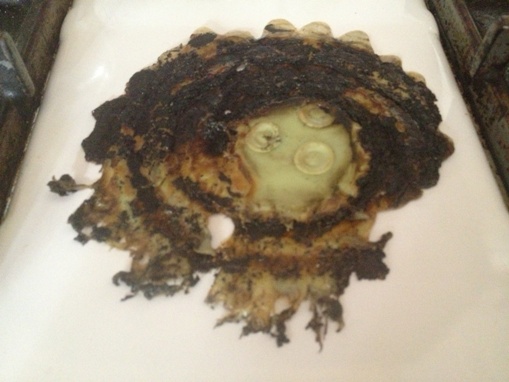 The incident was minor and accidental in nature but still a stark reminder about home fire safety. According to the United States Fire Administration, an estimated 164,500 cooking fires in residential buildings occur each year in the United States. Cooking is, by far, the leading cause of all residential building fires and injuries.

Avoid a similar incident in your home by following these tips.

Keep Things That Can Catch Fire and Heat Sources Apart
- Keep anything that can catch fire - potholders, oven mitts, wooden utensils, paper or plastic bags, food packaging, towels, or curtains - away from your stovetop.
- Keep the stovetop, burners, and oven clean.
- Keep pets off cooking surfaces and nearby countertops to prevent them from knocking things onto the burner.
- Wear short, close-fitting or tightly rolled sleeves when cooking. Loose clothing can dangle onto stove burners and catch fire if it comes into contact with a gas flame or electric burner.

For more information log onto http://www.usfa.fema.gov/citizens/home_fire_prev/cooking.shtm

06 MAY 13
Station 11 Welcomes Back a Former Member
Jesse Stanton returned to the company after a year and a half long hiatus. Jesse's return adds another trained Firefighter to the ranks at Station 11.
01 APR 13
Station 11 Welcomes two Veteran North Arlington Transfers
John and son Joe Reiff moved to Middletown in March and immediately sought membership in the department. Both men are/were firefighters with the North Arlington Volunteer Fire Department. They are a welcome addition to the team and have been received with open arms. Best of luck with your new brothers.
23 FEB 13
Five Recruits Begin Academy
Congrats to our five (5) Firefighter Recruits who began their training today at the Middletown Township Fire Department Trainnig Academy. John Baccellieri, William Hrehowsik, Rocco Nigro, Alex Ruane and Andrew VanWagoner will dedicate over 180 hours of hard work to the classroom and drillground over the next 3 1/2 months. Good luck boys. Make us proud.
28 JAN 13
Station 11 Responds to Motor Vehicle Accident
At approximately 2330 hours Station 11 and Middletown EMS units responded to a single car collision on Cherry Tree Lane. Responding units arrived to find two injured occupants in a two door sports car. The car left the roadway and collided with a tree, leaving the passenger trapped in his seat.
Personnel worked quickly to remove the driver and extricate the passenger. Both patients were transported by EMS to a local hospital.
27 JAN 13
Station 11 Trains for Success
Physical fitness training is nothing new for this fire company. Many of our front line firefighters are actively engaged in physical fitness activities. Each week most of those members train together at the firehouse, performing various workouts from CrossFit and group circuits.
During our January Sunday drill, we conducted all of the usual yearly inspections on our PPE and recertified on the use of our SCBA. However, there was one more thing to accomplish this time around. It was time to begin combining our physical fitness program with our skills based training.
The company headed out to Centrex Sports Club and conducted realistic SCBA training. Each firefighter donned his PPE and SCBA and boarded a treadmill. Times were kept, pressures recorded and consumption rates calculated. The idea? Conduct baseline fitness levels while wearing our PPE. The drill was a complete success. With a baseline in place, we will continue making our way as Occupational Athletes. Six months from now we will return for another test.
None of this would have been possible without the assistance of Centrex Owner Joseph AmecAngelo and Director of Sales Patti Fiore. Their club is home to many of our members and they never pause when we request their assistance.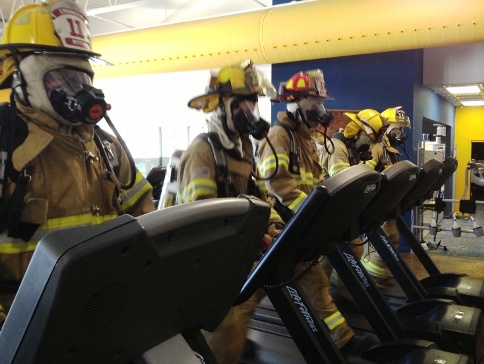 Group #2 gets it done on the treadmill.
12 JAN 13
Station 11 Responds to Structure Fire
On January 11th at approximately 1:55 PM, Stations 5, 6 & 11 responded to a working fire in a 1 1/2 story wood frame dwelling on Cherry Tree Farm Road. Station 4 was dispatched for Rapid Intervention.
Crews on scene worked well to bring the fire under control. The MTFD Public Information Office released more details that were published on the Middletown Patch. Click here to read more and view photos.
11 JAN 13
2012 Year in Review
During 2012, Station 11 responded to 246 calls for assistance, including 9 structure fires, 2 car fires, and 8 hazardous materials calls. The Company performed 3 rescues.
Our members spent an amazing 1,151 man-hours staffing the fire station around the clock-over an 11 day period- during Hurricane Sandy to ensure the protection of the community, and responded to 47 storm-related incidents during that time. We lost over $10,000 worth of equipment due to damage as a result of Sandy and the following Nor'easter while responding to emergencies.
During the year our members also participated in 1,179 hours of training. We were very active in the community as well: providing fire prevention and safety information to the children of Village Elementary School, various local preschools, and local boy scout and girl scout troops; conducting the annual "Santa Run", bringing the big red guy on a tour to the delight of the neighborhood's children; and, helping out with Middletown Helps Its Own.
Despite the aftermath of Hurricane Sandy, 2012 was a fantastic year. The members of Station 11 performed their duties to the best of their ability and often times going above and beyond for our community. We close the books on 2012 and look forward to what 2013 has to bring. Thank you for all of your support.
08 JAN 2013
Two More Probies and a Familiar Face Returns
Bill Hrehowsik and John Baccellieri seemed eager to begin the careers. Both men were accepted as Probationary Firefighters during last night's meeting and will attend Firefighter 1 this Spring. Station 11 will send five Recruits to the Spring 2013 FF1 class.
Brian Zappola returned to the company after a five month absence. Brian is a welcome addition as he returns with years of experience including four years as a Lieutenant.
Good luck to all those who joined the ranks last night. Stay safe.
03 DEC 2012
2013 Officers are Ready to Serve
Nominations and elections concluded during the December regular business meeting. All of our officers are well prepared and eager to serve. Best of luck to those coming into the line and those moving up the line.
Captain David A. D'Arcy
Lieutenant Vernon Peterson
Lieutenant Robert Smith
Lieutenant Michael Van Wagoner
1st Assistant Engineer Thomas Wieczerzak
2nd Assistant Engineer Joseph LoMonaco
3rd Assistant Engineer Alex Czaplicki
President Michael Lee
Vice President Richard Millward
Recording Secretary Brad Memoli
Corresponding Secretary Alex Czaplicki
Treasurer Patrick Mannix
03 DEC 2012
Station 11 Welcomes a new Firefighter, a new Probie & new Social Member
Craig Quinn is a 15 year veteran of the fire service having served in two departments from Essex county before moving to Middletown Township. During the December meeting, Firefighter Quinn made his commitment to the township and joined the ranks of Station 11. We look forward to having him on our team.
Alex Ruane is already familiar with being a first responder. He is a Lieutenant EMT with Fairview First Aid. Inspired by the recent success of fellow Firefighter friends, Ruane signed up to become a Firefighter himself. He will attend the recruit class this Spring at the Training Academy.
Bill Natwin was looking for a way to give back to the community and occupy his spare time. As a retired software developer, he feels his greatest aspect will be assisting the company in the IT department and with fund raising. We look forward to having Mr. Natwin share his experience with us.
27 NOV 2012
Santa Clause is Coming to the Village
It's that time of year again. Santa will be escorted by the fire company and visit the Village on December 23rd. The sled heads out at 4:00 PM. Follow us on Twitter (@OVFCStation11) as we make our way around Town. We'll be tweeting out our stops and location as we go.
24 NOV 2012
Van Schaack Graduates from Academy
Probationary Firefighter Eric Van Schaack spent the last four months studying and training to successfully complete the Firefighter 1 course. On November 24th, Van Schaack and the Fall 2012 Firefighter 1 class officially graduated from the course earning their place on the fire ground. The company is proud of our new Firefighter. Good luck Rookie!
02 OCT 2012
Another Probationary Firefighter Joins
Daniella Scullari has always wanted to volunteer her time to a worthy cause. That desire has been fulfilled as she enters the ranks of the Fire Department. Scullari will attend the Firefighter 1 Course at the Training Academy in the Spring of 2013. Good luck to our newest Probie.
16 SEP 2012
Team Hope Walk
The day was perfect for a long walk down the Long Branch oceanfront. A few hundred walkers turned out in support of supporting the research for a cure to Huntington's disease. Station 11 members turned out in full force to support our brother, Chris Roland.
Over $27,000 was raised by the families & friends of loved ones with Huntington's. The folks from the Huntington's Disease Society of America were great hosts and run a fantastic organization. Fore more information on the society and how you can help visit www.hdsa.org.
Firefighter Chris Roland is a 5 year veteran of the Middletown Township Fire Department. He has selflessly dedicated his young life to the service of his community and now he needs our help.

In 2011 he was diagnosed with Huntington's Disease, a devastating, hereditary, degenerative brain disorder for which there is, at present, no cure and only one FDA-approved treatment for a symptom.
Check back later this month for more information on our upcoming benefit for Chris.
04 SEP 2012
Longtime Explorer Becomes a Probationary Firefighter
For the last 3 years Andrew Van Wagoner has been eager to enter the ranks of the department. He waited patiently as a Fire Explorer to get his chance. During the monthly meeting of September, he was officially accepted into the Company as a Probationary Firefighter. Andrew will attend the Spring 2012 Firefighter 1 course at the Training Academy. Good luck to our newest Probie in your career.
06 AUG 2012
Station 11 Adds Two to the Roster
This month Station 11 added two more members to the roster. Firefighter Tom Wieczerzak returned to Station 11 after spending almost 7 years out of town. Tom has over a decade in the fire service with multiple agencies and organizations. He brings with him a wealth of knowledge and his impact should be felt within the company almost immediately. Many firefighters already know Tom through their experience with him as a staff member at the Training Academy.
Station 11 also welcomed in another Probationary Firefighter, Rocco Nigro. Rocco will be attending the Spring 2013 Firefighter 1 class at the Training Academy. We look forward to having him as a part of the team.
Welcome back to Tom and good luck to Rocco.
22 JULY 2012
Foam Operations Training
On Sunday morning, Station 11 members finished up a certificate course in Firefighting Foam Operations. Members spent a night in lecture and the day performing various hands on training skills. The course was delivered by Training Academy staff members Dave D'Arcy and Tom Wieczerzak.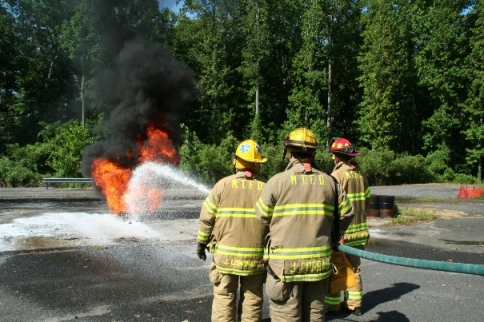 FF's LoMonaco & Corrao apply foam as Lt. Peterson directs their attack stream.
02 JULY 2012
Station 11 welcomes newest Probationary Firefighter
During the regular monthly meeting in July, Probationary Firefighter Eric Van Schaack was accepted into the company. Van Schaack brings with him experience as a volunteer EMT in Middletown Township, already serving with Fairview First Aid. Van Schaack will attend the Firefighter 1 course at the Training Academy this Fall. Good luck to our newest probie in your career.
29 JUNE 2012
Open House in the Planning Stage
Station 11 is planning an open house for the early Fall of this year. More information will be shared as it become available. We are looking forward to sharing our experiences with our community and providing tours and information about the firehouse. Please contact us for more information via email captain@oldvillagefc.org.
21 JUNE 2012
Station Gets CrossFit
On June 20th Station 11 Firefighters attended a CrossFit training class at the Centrex Sports Club of Middletown (570 Hwy 35 Red Bank, NJ). Each year, Station 11 dedicates a drill to firefighter wellness and fitness. This month's weeknight drill was our opportunity to raise our level of awareness to fitness.
Centrex Owner, Joe Amecangelo, has been a big supporter of the department and he came through for us yet again. Centrex recently opened a Cross Fitness Training Zone next door to their club. The "Zone" features over 30 stations of challenging activities designed to maximize the workout.
The workout is no joke and it certainly pushed our members to the edge. CrossFit is growing in popularity and is proving to be a fantastic option for firefighters to improve their fitness level. Comparisons can be made to the level of effort required in CrossFit and the fireground. Regardless of how you choose to stay in shape, maintaining a high level of fitness is the best way to reduce firefighter injuries.
Thanks again to Joe, Patti and everyone at Centrex for their continued support to the department and firefighter safety.
16 JUNE 2012
FF Figaro Graduates
On March 3rd Probationary Firefighter Nicholas Figaro began his training at the Middletown Township Fire Department Training Academy. The Firefighter 1 course would last him 177 hours and would determine whether or not he had what it takes to be a Firefighter.
On June 16th the probie became a Firefighter as Figaro and his classmates graduated from the Spring 2012 FF1 class. FF Figaro represented his company proudly receiving the Training Academy Physical Fitness Award during the ceremony. Congratulations to our newest Firefighter. Good luck in your career.
14 JUNE 2012
Scholarship Awarded
Congratulations to Samantha Peterson, daughter of Old Village's Lt. Vern Peterson, on being selected as one of three 2012 Chris Abbes Memorial Scholarship winners. The competitive $1,000 scholarships are named after Firefighter Christian Abbes of Navesink Hook and Ladder (Station #1) and are awarded to children of members of the Middletown Township Fire Department for their continued education. Firefighter Abbes lost his life in 1985 while attempting to remove highly flammable tanks from a trailer that was on fire at his construction site job. Samantha, a student of Communications High School, one of the five Monmouth County Career Academies, will be attending the University of California at Berkeley in the Fall with plans on majoring in Asian Studies. The scholarship awards were presented to the students at the Fire Department's June 11 meeting. Good luck Sam!
11 MAY 2012
Save Taxes, Save a Life, Volunteer!
The Middletown Township Fire Department is looking for motivated members of the community to become Firefighters. Station 11 in particular would like to extend an invitation to any interested residents of the Village section to come down to the firehouse. Get a first hand look at how important the operation of a volunteer fire department is to its community. You can make a difference in today's fire service. Contact Captain D'Arcy today to schedule a visit or interview captain@oldvillagefc.org. For more information of becoming a member, click here.
30 APR 2012
Station 11 Responds to Thompson Avenue Structure Fire
In the early morning hours on April 30, Stations 5, 6 & 11 were dispatched to a two story residential dwelling on Thompson Avenue, in the North Middletown section. Station 11 was assigned as the Rapid intervention Crew during the fire. Read more.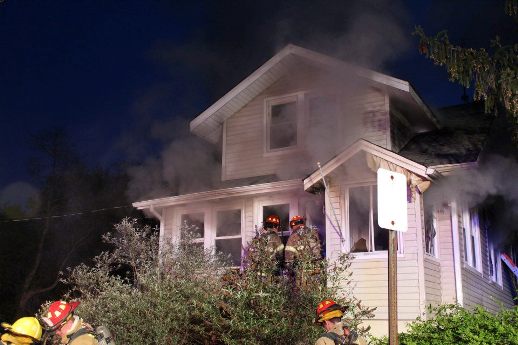 Initial attack crews attempt to control the fire. Photo by Laurie Kegley.
27 MAR 2012
Station 11 Responds to Bamn Hollow Structure Fire
At approximately 1:30 PM on Tuesday March 27, the Middletown Township Fire Department was dispatched to 231 Bamn Hollow Road for a working structure fire. First arriving units discovered heavy fire conditions on he exterior and interior of the 2 1/2 story home.
Station 11 Firefighters, responding on Engine 211, arrived quickly establishing a water supply and stretching a 2 1/2" attack line to the interior. Crews from Stations 9 & 8 arrived shortly afterward and a complete aggressive attack was underway. Units on scene had the fire under control in about an hour.
While the structure sustained heavy fire and water damage, Firefighters were able to salvage furniture and personal items from inside the home.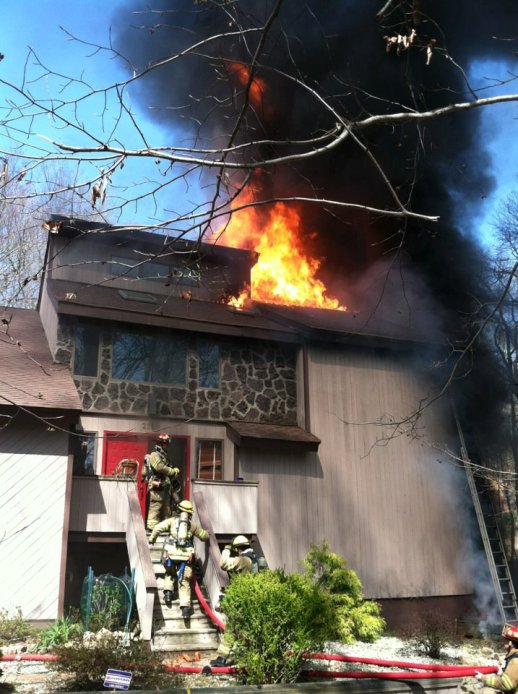 Engine 211 crew members stretching the initial attack line. Photo by Melissa D'Altilio.
Click here for video from the scene as reported on APP.com.
11 MAR 2012
Station 11 Responds to Two Structure Fires in 24 Hours
At 1:54 AM on Sunday March 11, the Middletown Township Fire Department was dispatched to 172 Heights Terrace for a report of smoke coming out of the wall of a house at that location. The first arriving Police unit discovered that the back wall of the house was on fire and attempted to control the blaze with a fire extinguisher. Approximately 25 firefighters from the Old Village and Middletown Fire Companies had the fire under control in 15 minutes. The house sustained minor fire and smoke damage.
Less than 12 hours later, at 2:35 PM, the Middletown Township Fire Department was alerted to a heavy smoke condition in the area of 115 Holland Road. First arriving units encountered a large volume of smoke coming from the eaves of a house at 113 Holland Road. Upon investigation, it was discovered that there was a fire burning out of control in the chimney. The masonry chimney had failed in several places allowing smoke and embers to enter the voids in the walls and the attic area. It took approximately 35 members from the Old Village, Middletown No. 1, River Plaza, East Keansburg and Community fire companies 90 minutes to completely extinguish the stubborn fire. The damage was limited to the area around the chimney and the roof.
13 FEB 2012
Station 11 responds with LDH Pipeline to Long Branch Fire
Just after noon on February 13 a fire broke out on Brighton Avenue in the West End section of the City of Long Branch. The fire, fueled by high winds, spread quickly and engulfed multiple occupancies along Brighton Avenue. A number issues at the scene proved to be challenging for responders on scene, including water supply.
Incident Commanders on scene requested the assistance of the MTFD Large Diameter Hose Pipeline Strike Team. Station 11 firefighters responded on Engine 211 with seven other Pipeline Engines and quickly established two pipelines. The Pipeline stretched approximately 2700 feet each from N Lake Drive down Ocean Avenue to the fire scene.
Pipeline Engines established a water supply from Takanasee Lake and supplied an estimated 3000 gallons per minute to assist units at the scene extinguish the fire. The Pipeline operated for several hours before being released and returning to the Township.
See and read more here.

Engine 211 and Station 11 Firefighters work the Pipeline during the fire.
06 FEB 2012
Probationary Member Joins Station 11
On February 6th Nicholas Figaro became the newest Probationary Firefighter at Station 11. Figaro will attend the Firefighter 1 Recruit Course at the Training Academy in March. Congratulations and good luck to our newest Probie.
13 JAN 2012
Overturned MVA Requires Extrication
At approximately 0830 hours this morning, Station 11 responded with Middletown Township Police and EMS units to an overturned motor vehicle accident on Red Hill Road. The operator of the vehicle involved in the single vehicle accident had to be extricated as the vehicle lay on its side. Firefighters from Station 11 quickly stabilized the vehicle and deployed rescue tools to begin extrication..
Additional EMS units arrived quickly afterward and worked side by side with the Fire Department effectively removing the operator. The operator was quickly packaged and transported by EMS to a local hospital. Injuries to the operator appeared minor in nature.
Responding units included Station 11 (E211 & E210), Port Monmouth First Aid (374), Fairview First Aid (365) and members of Leonardo First Aid.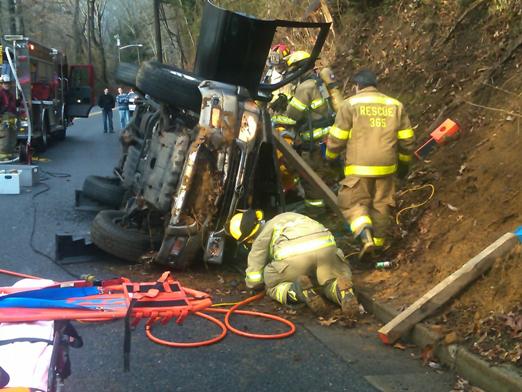 Station 11 Firefighters work to extricate the driver of this vehicle.
02 JAN 2012
Recording Secretary Approved

23 DEC 20111
Santa Clause Came to Town - Loan Oak Drive Structure Fire
Christmas came a bit early for the children of the Village section of town. Station 11 delivered Santa Claus via fire department sleigh to neighborhood after neighborhood. The annual Santa Run is as much fun for our members as it is for the residents. Thank you for coming out to see Santa.
Unfortunately, Santa was forced to take a break while Station 11 was dispatched to a structure fire in the New Monmouth section of town. Station 11 responded with Station 6 to the fire, which was contained to an enclosed porch. Engine 211 provided search and ventilation efforts while Engine 210 provided suppression and overhaul efforts.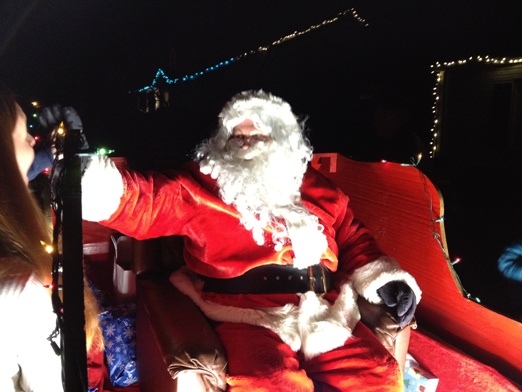 Santa Claus brings the Holiday Spirit to families throughout the Village.

23 DEC 2011
Santa's Sleigh Awaits His Visit to the Village
Santa's sleigh will depart the firehouse tonight around 5:30PM right after he arrives from the North Pole for his annual visit to the Village.

21 DEC 2011
Firefighter Michael Rodgers Graduates from Fire Academy
Probationary Firefighter Michael Rodgers joined the MTFD earlier this year with high hopes of becoming a Firefighter. A Middletown resident, Rodgers is currently studying Biology at Bryn Athyn College in Pennsylvania.

Rodgers became inspired to volunteer his time while attending class in Pennsylvania. He dedicated his spare time to the local firehouse and soon afterward knew becoming a Firefighter was something he had to do. Rodgers returned home during a break and immediately sought membership with Station 11.

It did not take long for Rodgers to make an impact and he quickly proved he was willing to put in the effort to be a part of the team. When Rodgers was ready to enroll in recruit training scheduling became a major burden. After confirming the possibility, Rodgers enrolled in the Bucks County Public Safety Training Center Firefighter I course. The Bucks County academy, located within close proximity to Bryn Athyn College, provided Rodgers the opportunity to attend recruit training and continue his studies at the University. Three months later Rodgers graduated near the top of his class and returned to Middletown Township a certified Firefighter.

We're proud to have this newly qualified Firefighter serving alongside us. Congratulations Firefighter Rodgers and good luck in your career.

05 DEC 2011
2012 Nominations and Elections Complete


A sincere congratulations is in order for all of our newly and re-elected company officers. Many of the officers will remain in their positions of responsibility for another year and others will take on new positions for the first time. 2012 is sure to be another successful year for the company.

2012 Firematic Officers


Captain David A. D'Arcy
1st Lieutenant Vernon Peterson
Chief Engineer Robert Smith
1st Assistant Engineer Michael VanWagoner

2012 Administrative Officers


President Michael Lee
Vice President Richard Millward
Treasurer Patrick Mannix
Secretary Alex Czaplicki
Trustee Vernon Peterson

04 DEC 2011
Christmas Tree Lighting and Festival


Station 11 members delivered the festival's VIP tonight. Santa Claus arrived by fire truck and was greeted by hundreds of families at the Middletown Arts Center. Children lined the hallways for their turn to tell Santa about their list for Christmas. A special thank you to Arts Center Director Maggie O'Brien and her outstanding staff for their hospitality and in making this year's festival another success.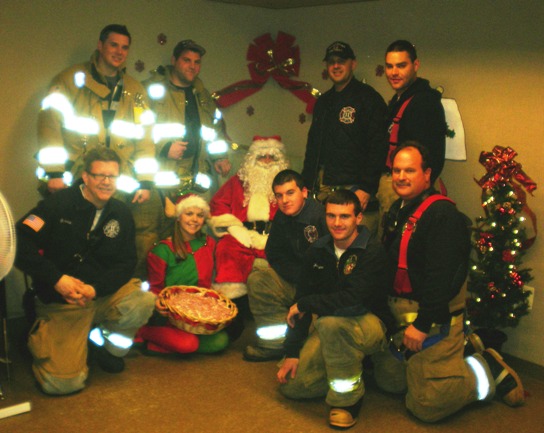 Station 11 members pose with our Santa during the annual festival.

30 NOV 2011
Flashover Training


Station 11 members attended the Training Academy's Flashover Awareness training exercise. Member's attending the exercise were treated to a lesson on Flashover including how it occurs, how to recognize pre-flashover conditions, how to prevent it and a number of other important facts regarding this deadly condition. The lesson was followed by a live fire demonstration in the Flashover Chamber.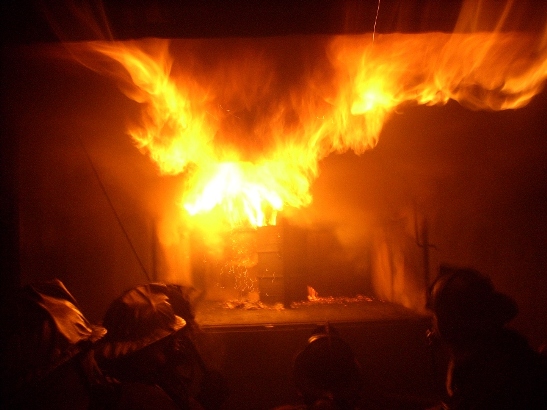 Station 11 members observe one of many flashover's inside the Flashover Chamber at the Training Academy.

27 NOV 11
Rapid Intervention Drill


During Station 11's monthly Sunday morning drill, our Firefighters continued working on our Rapid Intervention Crew skills. Utilizing a prop designed to practice the Denver Drill, team after team simulated rescuing a downed Firefighter from a small space. This skill is one of many that Rapid Intervention Crews train on regularly in the event one of our own go down.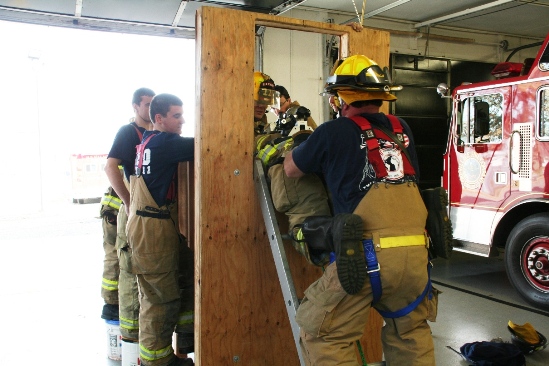 Ex-Chief Mike Lee and Engineer Mike VanWagoner practice the single Firefighter removal technique.

21 NOV 11
Forcible Entry Drill


During Station 11's monthly Monday night drill, our Firefighters refined their skills on conventional forcible entry. The Training Academy provided use of the Multi-Force training door and before long, doors were popping. Our members train a minimum of twice monthly and dedicate themselves to preparing in every aspect of the fire service.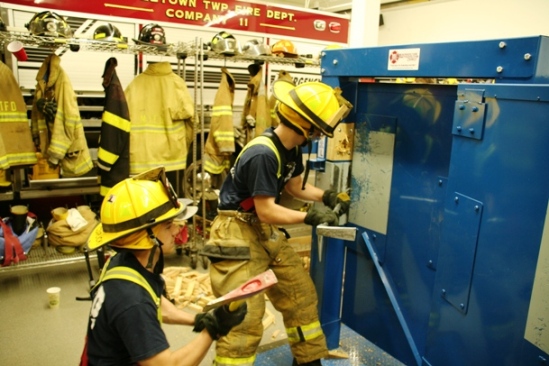 FF's Alex Czaplick (left) and Brad Memoli (right) go bevel to the jamb during this evolution.

17 NOV 11
Christmas Tree Lighting & Holiday Festival


The festival, held each year at the Cultural & Arts Center on Church Street, is scheduled for December 4th. Activities begin at 5 pm sharp and includes a special musical "Tuba Christmas" performance, Christmas caroling, activities for the children, and holiday tree lighting. Station 11 members will be delivering a very special guest to the festival again this year.

4 NOV 11
Middletown Loses a Dedicated Firefighter


It is with deep regret the Belford Engine Fire Company and the Middletown Township Fire Department announce the passing of Ex-Captain Robert Baumann.

Captain Baumann was a 54 year member of the department serving since 1957. He was a dedicated member up until the last few days of his life. Mr. Baumann could be found on the scene of every major incident in the Township with the Fire Police Unit. Mr. Baumann also served on the Planning Advisory Committee. Rest in Peace Captain Baumann.

27 OCT 2011
Vehicle Becomes Lodged on Retaining Wall-Occupant Trapped


On October 27th just before noon, Station 11 responded to a single car crash on Van Schoick Road. The vehicle became lodged on a retaining wall with the passenger unable to exit the vehicle. Engine 211's crew utilized hydraulic rescue tools to stabilize the vehicle so the passenger could safely exit the vehicle. No injuries were reported.

11 OCT 2011
Fire Prevention Week/Month


This year's theme for Fire Prevention week is "Protect You Family From Fire". According to a United States Fire Administration report, an estimated 374,900 residential building fires are reported to U.S. fire departments each year and cause an estimated 2,630 deaths, 13,075 injuries, and $7.6 billion in property loss.

Cooking is the leading cause of residential building fires, followed by heating.

Residential building fires peak over the evening dinner hours when cooking fires are prevalent.

For more information on Fire Prevention Week log on to the USFA website here.

Station 11 will assist the Fire Prevention Bureau at Village Elementary School on October 24th. Our members will be on hand to provide apparatus tours and fire safety tips for Township children.

3 OCT 2011
Station 11 extinguishes garbage truck fire


Just before 1:00Pm on Monday October 3rd, Station 11 responded to a working garbage truck fire in the parking lot of the Burger King restaurant. Engine 211's crew dealt with flammable liquids that were leaking from various points on the truck. Engine 182 assisted on the incident and the Special Services Emergency Response Team was called to help mitigate the hazardous materials leak. No injuries were reported.

21 SEP 2011
Station 11 Firefighter to Honor Fallen


This Sunday, September 25th, Station 11 Firefighter Brad Memoli will honor the memory of our fallen FDNY brothers. FF Memoli will be participating in this years Stephen Siller Tunnel To Towers Run/Walk. FF Memoli will run the course as Stephen did on 9/11, in full turnout gear. For more information about the Tunnel to Towers Run/Walk visit http://www.tunneltotowersrun.org

28 AUG 2011
Station 11 responds during the Hurricane


Hurricane Irene left her mark on the Township. The Township emergency services units were well prepared to deal with the effects of the storm. Fire, Police and EMS responded to hundreds of calls throughout the weekend. Station 11 responded to twelve call for assistance during the storm. Thousands of County and Township residents remain without power and crews are still working to remove downed trees.

23 AUG 2011
Tremors


New Jersey residents dealt with the effects of an earthquake that originated in Virginia Tuesday. Station 11 responded to the Sears store for reported damage as a result of the earthquake. Coverage on middletown-nj.patch.com.

22 AUG 2011
Car fires occur near Station 11


Station 11 responded to a working car fire just before midnight on August 22nd. Coverage on the middletown-nj.patch.com.

04 AUG 2011
ShopRite Tabling August 13th


On August 13th, the members of Station 11 will be conducting an all day tabling at the Shoprite on Highway 35 in the Middletown Plaza. Stop by and show your support.

30 JUL 2011
Old Village is now on Twitter!


That's right. Your fire company has joined the world of Twitter. Follow us to stay in touch. @OVFCStation11.

26 JUL 2011
oldvillagefc.org adds a Google calendar page


Visit our new Calendar of Events page to keep up with our members.

25 JUL 2011
Station 11 releases updated version of website


It's back and better than ever. Visitors can expect to find regular updates on our news page and announcements about upcoming events. Visit us on Facebook to receive regular updates.

Older News
Provident Bank Foundation Award
Old Village has been awarded a $1,500 grant by the Provident Foundation, the philanthropic arm of The Provident Bank. The award will be used to off-set the cost of purchasing a much-needed computer to be mounted in Engine 211. The ruggedized computer will enable immediate, on-scene access to a library of reference materials, pre-plans, maps, aerial photos, and a wealth of information that is crucial to the mitigation of various emergencies. In addition, the computer will facilitate the reporting and information management that is required of all fire companies by the State and Federal governments.

Tabling at ShopRite
The Old Village Fire Company would like to extend a special thank-you to the management and staff of ShopRite (Highway 35 & Harmony Road). The Company was granted permission on two Saturday mornings this Summer to staff a table in front of the store to provide members of the community with information on the Fire Company and collect donations. The management and staff demonstrated immense hospitality and generosity to the crews, for which we are extremely thankful.

Middletown Does it Again
Thanks to the efforts of Lt. Vernon Peterson (Old Village Fire Company) and ex-Chief Peter Lucyk (River Plaza Fire Company), the Middletown Township Fire Department has once again been awarded funding under the highly competitive Assistance to Firefighters Grant Program of the US Department of Homeland Security. As part of this award, the Department will be receiving a special washing machine and dryers for the decontamination of gear, and each of the eleven fire companies will be provided with an automated external defibrillator, trauma bag with oxygen kit, and two monitors which enable the detection of toxic and explosive gases. With this year's award, the Department has won four in a row, totaling almost $700,000 in federal funding for crucially needed equipment. These awards result in tremendous savings for the taxpayers of the Township.

Station 11 Teams Up With The Middletown Newcomers Club


Station 11 has teamed up with the Middletown Newcomers Club to help support each group. Station 11 will be letting MNC utilize the training room for meetings and both organizations will support events and fundraisers that they may be involved in.

Founded in 1973, the Middletown Newcomers & Neighbors Club ("MNC") is a social, charitable, not-for-profit organization. Its objective is to foster friendships among residents of Middletown, NJ and surrounding areas. *The MNC is not just for newcomers* ! You can read more about the Middletown Newcomers Club at their website. http://middletownnewcomersclub.webs.com

Cub Scout Troop 142 Visits Station 11


On Friday February 6th, 2009 Cub Scout Troop 142 came by the firehouse for a tour. Led by Lt. Vern Peterson and FF Michael VanWagoner gave the troop a tour of our facilities and showed them what volunteer firefighters do. Everyone had a great time and the troop were given some fire safety hats and books. We look forward to their next visit.
On Thursday January 1st, 2009 Station 11 hosted the Annual Chiefs Breakfast. At the breakfast, Chief Falci (Station 11) handed over the reigns to the 2009 Chief John Kardel (Station 1) and welcomed the newest member to the Chief ranks, 3rd Assistant Chief John D'Atillio. The new line consists of Chief John Kardel (Sta 1), Deputy Chief John Isaksen (Sta 2), 1st Asst Chief Michael Chenoweth (Sta 3), 2nd Asst Chief John Wankel Jr. (Sta 4) and 3rd Asst Chief John D'Atillio (Sta 5). Congratulations and good luck to the 2009 Chief line.

Santa Claus Came To Town
Santa Claus came to Middletown on Saturday December 20th, 2008 and asked Station 11 to escort him through our community. In preparation for the event, a new piece of equipment was built and put into service - SU 212 or Sleigh Unit 212. Santa's new sleigh hitched a ride with Station 11 as we took him through the snowy streets and spread some Christmas joy. Santa gave out candy canes and gifts to the children of the neighborhood. We hope everyone had a very Safe and Merry Christmas. To find out more info on how Santa can deliver presents to your house Christmas 2009 please contact us (via the Contact page) or visit our website again later next year.



MOM'S Club of Middletown Visits Station 11
On Wednesday November 12th, 2008 Station 11 hosted the Mom's Club of Middletown North. Lt. D'Arcy lead the parents and children on a tour of the firehouse and equipment. The kids had a great time and were taught valuable fire safety tips.

The Mom's Club of Middletown, affiliated with the International MOMS Club, is a non profit organization supporting stay at home mom's and their children. Each month they have fun events for the mom's and kids. The Mom's Club also does fundraising and help out in the community. They have 2 chapters in Middletown that cover our area as well as the surrounding towns. For more info on the MOM'S Club of Middletown, please visit http://www.geocities.com/monmouthmomsclub/

Station 11 Assists With Fire Prevention Week
On Wednesday October 29th, Station 11 along with the Middletown Township Fire Prevention Bureau visited Village Elementary School to teach the basics of fire prevention. Kindergarteners and 1st graders were taught the basics of fire prevention and fire safety. The children were also provided a tour of Engine 211 and its equipment by Lt. Vern Peterson, FF Vincent Buccigrossi and FF Michael Van Wagoner, who also answered all their questions. We thank the Village Elementary School for all their continued support for Fire Prevention and the Fire Department.

Station 11 Open House a big success!


On September 15th, 2008 at 6:30 PM the Old Village Fire Company held an Open House for the community. We had many families stop in and view the equipment, talk with our members and enjoy refreshments. There were gifts for the kids and a great time was had by all that attended.

Service and Commitment Beyond Just Middletown


On Sunday, August 31st, Acting Governor Richard Codey deployed 35 members of New Jersey Task Force One, the state's Urban Search and Rescue team, to Louisiana to assist communities affected by Hurricane Gustav. Among this highly trained and experienced group of individuals are two of Middletown Townships' Bravest, 1st Lieutenant David D'Arcy of Station 11 and Capt. Daniel Kelly of MTFD Special Services Unit and Station 10. Both Lt. D'Arcy and Capt Kelly serve on NJ-TF1, assisting in the planning and coordinating of rescue efforts. The team will be bringing with them their swift water rescue boats, inflatable Zodiacs and flat bottom Zodiacs. They will be driving in a convoy to Louisiana that will take them an estimated 22 hours.

In the words of Acting Governor Codey: "Americans have always been there for one another. After 9/11, help came to New Jersey from all over the country. During Katrina we were able to return the favor and send New Jersey resources to Louisiana. Today we head back to help Louisiana deal with the after effects and severe destruction of Hurricane Gustav. These individuals who are deploying today are meeting a desperate public service. They are a display of New Jersey at its best and I thank all of them for their hard work and generosity."
We wish Lt. D'Arcy and Capt. Kelly a safe trip. We know they, along with rest of the team, will make the fire department, Middletown Township, and all of NJ proud.

To read more about what the NJ Task Force One team does and how it is structured, please visit http://www.state.nj.us/njoem/taskforce1/index.html

Congratulations to New Life Member James Tuohy


At our last company business meeting on August 4th 2008, James Tuohy has achieved Life Member status as he has reached his 20 year milestone. Jim started his firefighting career back in 1988. He is an Ex- Captain and is currently serving a 3 year term as a Trustee. Jim is also a Lieutenant for the Middletown Township Special Services Emergency Response Team. We thank Jim for his dedication to the Fire Service and his tenure at the Old Village Fire Company. Congratulations from all of us at Station 11!

Congratulations to Life Member Phil Valese


On Monday August 18th 2008, Old Village Fire Company Life Member Phil Valese was voted in by his peers to the Board of Managers of the New Jersey Firemen's Home. Mr. Valese received 206 votes out of 262 to be elected to this position. In addition to this position, Mr. Valese is also currently serving as the Treasurer of the Middletown Township Fire Dept, Trustee of the Old Village Fire Co., President of the Middletown Firemen's Relief Association, President of the Middletown Exempt Firemen's Association, Delegate to the Middletown Firemen's Planning and Advisory Committee, Secretary of the Monmouth County Firemen's Association and Treasurer of Monmouth County Exempt Firemen's Association. Mr. Valese has over 50 years of service as a firefighter in Middletown Township and is a life member of the NJ State Firemen's Association as well as the Middletown Township Fire Dept. He is also past President of the MTFD and OVFC as well as an Ex-Captain. Mr. Valese brings many years of experience and knowledge with him to this position. Please join the Old Village Fire Company in congratulating Phil Valese in his new position and his commitment to the Fire Service.

For more about the NJ Fireman's Home, please visit http://www.njfh.org/index.html

MVA - Car Vs Building
On Thursday July 31st, 2008 at approximately 5:08pm, Station 11 was dispatched to a multiple motor vehicle accident. One vehicle involved collided with a commercial building on New Monmouth Rd. The Middletown Township Special Services Emergency Response Team was also dispatched due to the structural damage. The crew of E211 assisted the S.S.E.R.T., led by Capt. Dan Kelly, in removing debris and constructing emergency shoring to support the building. Asst. Chief Jack Wankel called all units clear at 7:30pm.



Structure Fire at Jay Dr
In the early AM hours of Tuesday June 24th, Station 11 was dispatched to assist at a structure fire on Jay Dr. Station 11 responded as well as Station 5, Station 6 and Station 7. Station 11 crew helped extinguished the fire and performed overhaul in the interior of the house. See pictures of the fire under our Photo Gallery section.

Firefighter 1 Graduation and Final Drill


On Saturday June 21st, 2008 the Middletown Township Fire Department Training Academy held their "Putting It All Together" Final drill for their Spring 2008 Firefighter 1 class. Class Coordinator Lt. Dave D'Arcy and his fellow instructors put together a day of Fire Evolutions for the "probies" to go through and demonstrate their understanding of the basics they just learned. It was a fun, but tiring day for the probationary firefighters due to the heat and humidity. Safety Director John Drucker kept a close eye on everyone to make sure no one was injured or succumbed to heat exhaustion. At night, the graduation ceremonies were held at Croydon Hall where the probationary firefighters were given their certificates and firefighter helmets. Congratulations Spring Class of 2008!

Charter Member Passes
Old Village Charter Member William Strohkirch Sr. passed away on June 9th, 2008. Mr. Strohkirch, 81, of Effort, PA was one of the founding fathers to the Company. He was a traffic and safety department head for Middletown Township Public Works for over 30 years, retiring in 1984. Strohkirch Sr. was a veteran of the U.S. Navy, serving during World War II. He was a lifetime member of the V.F.W. Post 2179, Port Monmouth. He was born in 1926 in Linden and lived in Middletown most of his life before moving to Effort, PA, 5 years ago. Rest in Peace Mr. Stohkirch.



Station 11 receives a new tool, June 2nd 2008
Station 11 took delivery of a new Stihl MS 460 Rescue Saw. This saw is specially designed for roof ventilation. The saw, equipped with a special chain and depth gauge, assists firefighters in making cuts on roof tops. Know as vertical ventilation, a hole is often cut in the roof of house on fire to allow the super heated gases and smoke to escape. This operation allows the firefighters inside to make a more effective fire attack and also gives any trapped victims a better chance of escape or rescue.

Lafayette Court, April 20th 2008
At approximately 1200 hours Station 11 was dispatched to a working structure fire on Lafayette Court in the Bamm Hollow section of the Township.



M.T.F.D. Receives another Grant, February 25th 2008
In February of this year the Department received confirmation that it would receive yet another Federal Grant. Department grant writer and Station 11 member Lt. Vern Peterson successfully obtained $142,900 in in federal funding. This is the third grant awarded to the Department in four years.